Andrew, Yours is quite similar to this one from BCD: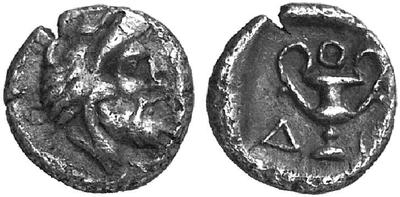 http://www.acsearch.info/record.html?id=31817
quote/
SAMMLUNG BCD GRIECHISCHE MüNZEN AKARNANIENS UND AITOLIENS
AKARNANIEN
UNBESTIMMTE MüNZSTäTTEN
(Uncertain mint)
No.: 410
Schätzpreis/Estimate: EUR 120
d=10 mm
Diobol, 420-380. Bärtiger Herakleskopf im Löwenfell n. r. Rv. Kantharos, im
Felde D-I-O (für Diobolon ?); das Ganze in einem leicht vertieften Quadrat.
0,69 g. / 1h. Vgl. Pozzi 1448 (Av. Kopf n. l., unter Theben/Boiotien).
Von großer Seltenheit. Getönt.
Av. Sehr schön. Rv. Gutes sehr schön
Aus Auktion Classical Numismatic Group, Inc., Lancaster 35 (1995), 202. – Ein
mit dem Exemplar aus Slg. Pozzi stempelgleiches weiteres Exemplar befindet
sich im British Museum, London (ex Slg. Sir H. Weber).
A note from BCD: A diobol of c. 0,75 g. (ideal weight) would correspond to a
hemidrachm of c. 2,25 g. This is on the light side when compared to the known
weights of the earliest Akarnanian League triobols. However, smaller fractions
were usually struck "light" so they would not leave the areas for which they
were intended. The fact that this coin is also clearly labelled as a diobol seems
to stress the need of the issuing authority to establish it as such, despite its
lower weight.
/quote
Walter Holt
Sydney, Australia